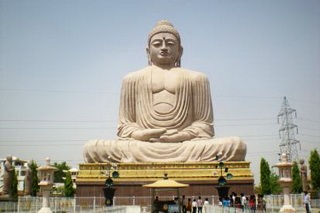 "Magnificent, Master Gotama! Magnificent! Just as if he were to place upright what had been overturned, were to reveal what was hidden, were to show the way to one who was lost, or were to hold up a lamp in the dark so that those with eyes could see forms, in the same way Master Gotama has — through many lines of reasoning — made the Dhamma clear. I go to Master Gotama for refuge, to the Dhamma, and to the Sangha of monks. May Master Gotama remember me as a lay follower who has gone to him for refuge, from this day forward, for life." ~ Abhaya Sutta, Anguttara Nikaya.
Introduction
We stand at an interesting point in history. Since the time the Buddha first turned the wheel of Dhamma, his teachings had spread to lands in close geographical proximity to the Ganges Valley of India. It is only in the last few decades that the Dhamma had reached beyond oceans to touch the lives of those in far and distant lands. For each and every person who finds his or her way to the Buddha, there is a personal story, how they first encountered the Dhamma, what attracted them, what touched their lives, sometimes in very deep and profound ways.
Our Stories
This page is a page of such stories. The people are not extra-ordinary, just a sampling of sentient beings taken from the present chapter of time. But like Buddhists down through the ages, each reveals a personal drama.